Disney Dream Features the Latest in Techno-Cruising


When 2011 rolls around, there'll be a brand-new star joining Disney Cruise Line – and this time it's the ship herself. The Disney Dream, scheduled to make her maiden voyage January 26, 2011, is the third – and largest – addition to Disney's fleet of luxury ocean liners that harkens back to the golden age of cruising while providing an unforgettable vacation for every member of the family.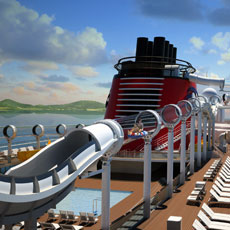 Due to set sail from Florida's Port Canaveral, the Dream is currently under construction in Papenburg, Germany. Disney Cruise Line's Jason Lasecki talks about the Company's decision to build overseas. "Meyer-Werft is a world-renowned shipyard with incredible craftsmanship and attention to detail ... it's the perfect match between their ship-building expertise and our brand."

Initially the ship is built in 83 individual blocks which, when finished, are welded onto the ship's structure in one of the world's largest covered dry docks. When the ship's ready, the building is flooded to float the ship onto the Ems River. "It's truly amazing ... the entire process takes almost 15 months," Jason adds.

The 14-deck ship mixes early 20th century design with state-of-the-art technology and introduces all-new Guest experiences ... while retaining the best features of her sister ships, the Disney Magic and Disney Wonder. Imagineer Joe Lanzisero, Senior Vice President Creative, discusses the technology used.

"The Disney Dream is the next generation of Disney cruise ships. Much of the thinking is really an extension of everything learned over the last 10 years, but there are several surprises. We're introducing AquaDuck, the first on-board watercoaster ever designed. By incorporating elements from the Theme Park slides and Typhoon Lagoon's Crush 'n' Gusher technology, we configured a clear acrylic tube that thrusts Guests out over the side of the ship (150 feet above the ocean's surface). Some of the watercoaster features include traveling through the ship's forward funnel, various uphill portions, and river rapids, which provide a spectacular ocean view. It's a thrill ride that's really on par with our Park attractions."

Innovation continues with another cruise industry first – "virtual portholes." Thanks to Disney magic, inside cabins will feature real-time views of the outside world. "Four cameras will be stationed around the ship's exterior to send a live feed to the virtual portholes. Guests will see the exact same views that the actual porthole cabins provide. Plus, animated Disney and Disney·Pixar Characters will intermittently appear in the portholes," says Joe.

The portholes aren't the only place where Disney magic springs to life – the "Enchanted Art" program blends technology with artwork that celebrates the Company's legacy. As Guests wander throughout the Disney Dream, "Enchanted Art" pieces will actually spring to life via animation. "The Imagineers have done an incredible job in making these look like an actual piece of art, regardless of the medium. It can be a textural oil painting, photograph, or any other art form," Joe explains. Guests will view different sequences each time they look at the pieces, thanks to computer programming.

Many of the age-specific entertainment areas have also seen a sprinkling of Disney magic. Adults can virtually visit many of the world's most famous cities at Skyline, a nightclub featuring panoramic, real-time views of Los Angeles, London, Paris, Tokyo, and Hong Kong, to name a few. Pink, an intimate champagne bar, puts Guests inside a champagne bottle ... with animations appearing on large bubbles scattered throughout the club.

Don't think the Dream, or any other Disney cruise ship, is a floating kiddie ride. Imagineers worked to create trendy environments that allow parents to relive the glory days of their youth ... before kids. As for your offspring, Joe doesn't hesitate to reveal what's in store. "We have the best kids' spaces on the ocean ... and we're always looking to improve on that."

One such area is Vibe, a club exclusively for teens. Complete with green screens as well as uber-cool iPod docking stations and computers, teens have the run of the place – including a private open-air deck – accessible via a members-only swipe card. Joe weighs in on creating entertainment for this age group. "We gave teens a dedicated space where the most important thing is connecting with other teens and social networking."

Younger kids can explore various interactive play spaces that feature multi-player video gaming, computer kiosks, animation instruction, and movie screening areas inspired by "Toy Story," Pixie Hollow, "Monsters, Inc.," and "Finding Nemo." The Oceaneer's Club and Oceaneer's Lab, both borrowed from the classic ships, will eliminate age-specific activities and allow kids to do whatever interests them.

Joe sums it up. "For me, I see an opportunity to touch our Guests on a much deeper level than we're able to in the Theme Parks. These ships are filled with all kinds of new challenges and technologies that are different from the Parks ... the core of what we're delivering is no different from anything else we provide. And that's great Disney family entertainment."

According to both Joe and Jason, there's more to come. Disney Cruise Line is still hiding a few surprises up its sleeve, so stay tuned!