'I am living, not just existing'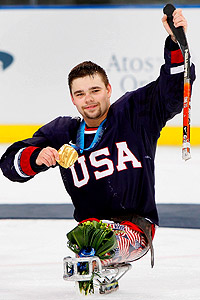 Kevin C. Cox/Getty Images
Alexi Salamone helped lead the United States to gold in sledge hockey.
WHISTLER, British Columbia -- Turns out we were following the wrong athletes all along.
As always, I was dazzled and inspired by the Olympians at the 2010 Winter Games in Vancouver, from the champions who went home wrapped in glory to those who returned without a medal but with the satisfaction that they competed despite whatever obstacle was thrown before them. I'll always remember the words of 51-year-old skier Hubertus von Hohenlohe, who first competed in the 1984 Sarajevo Olympics and told me after he raced the slalom at Whistler, "You can do more than you think."
Then I went to the Paralympics finale this past weekend and really learned that lesson.
Alexi Salamone was born near Chernobyl 14 months after the nuclear disaster there. His legs were horribly deformed at birth and had to be amputated. Orphaned, he was adopted by a couple in Buffalo, N.Y., and raised in the United States. He scored the winning goal in the United States' gold-medal victory in sledge hockey Saturday night.
Germany's Gerd Schonfelder tried to jump aboard a moving train 20 years ago. He missed, losing his right arm and the fingers on his left hand. He won the gold medal in the super-G on Friday morning while his wife was in labor delivering their son. He won the super-combined the next day, his 22nd Paralympics medal.
Canadian cross-country skier Brian McKeever has roughly 10 percent of normal eyesight, all of it peripheral. He qualified for the regular Olympics, but the team chose not to start him in his event. He won three gold medals in the Paralympics, including the final 1K sprint, in which he raced so swiftly he passed his guide (his brother, Robin) and crossed the finish line on his own.
You can do more than you think.
The downhill is intimidating enough for able-bodied skiers. Imagine doing it without an arm. Or a leg. Or without sight. (In the visually impaired events, athletes ski with a guide ahead of them calling back directions and instructions.) That's dramatic, "you must be joking" stuff, but forget about that for a while. Just getting from the car to the snow over a gravel-filled, slushy parking lot in a wheelchair would stop most of us.
Sean Halsted knows what that's like. He lost the use of his legs during a search-and-rescue training fall from a helicopter with the Air Force in 1998. He said he thought his life was over until the Department of Veterans Affairs got him involved in the Wheelchair Games and then winter sports. A former collegiate rower at Washington State, he tried downhill skiing and hockey before finding that cross-country skiing suited him best. He finished 10th in the 1K sprint (sit-ski division) Sunday.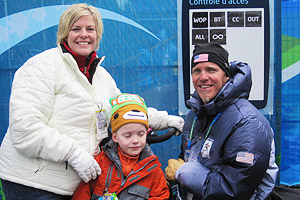 Courtesy of Jim Caple
Sean Halsted, right, his wife Sarah and son Ethan made the trip to Vancouver for the 2010 Paralympic Games.
"It feels really good that the community is embracing this, that we're not going, 'That guy is in a wheelchair. He can't do anything but sit in his hospital room,'" Halsted said. "That's what I thought my life was going to be like. Computers, the Internet -- it's good there is all this technology for me to use, but that's not really life. And for a while I wasn't really living; I was
existing.
This has allowed me to live and given me reasons to get up in the morning and better reasons to go out and do stuff and push myself harder to find what I can do."
"It is the endorphin rush that keeps him balanced. It allows him to handle all the other challenges in life," said Halsted's wife, Sarah. "It's awesome to be able to flush the negativity and the daily challenges. You can really work it out. It helps his mental balance. It reboots him every day.
"Instead of him being defeated and a victim, he became a victor over the circumstances."
I had always wanted to see the Paralympics, which are held after the Olympics at the same site, but staying on an extra couple of weeks in Athens or returning to Beijing was not an option. Living 150 miles from Vancouver finally provided me the opportunity to see them. After all, where else could one come across this quote at a sporting competition: "I looked up and saw the leg flying into the forest"? (Swedish guide Mattias Westman said that after seeing Hakan Axelsson's prosthesis fly off during the men's 20K race.)
A shameful aspect of the Paralympics, however, is that the credentialing process is separate from the Olympics for some reason. I had assumed my Olympic credential would be good for both. I'd assumed incorrectly, which I learned just before I was about to drive from Seattle to Vancouver. After getting shut down cold by someone in the credentialing office, I decided to drive up anyway for Sunday's final races at the cross-country course. (I missed but was informed later about Salamone's goal and Schonfelder's golds.) I figured I probably would be able to talk my way in; if not, I could buy a ticket and at least see the races.
Fortunately, the Olympic credential looked similar enough to the Paralympics credential that no one at the course noticed (or cared), and after buying a ticket, I was able to get to the mixed zone, where athletes meet with the media after they finish an event. I didn't check thoroughly, but I didn't see any other American reporters in the mixed zone. (There were very few reporters of any nationality.) Later, though, I was barred from going into the Whistler media center simply to get copies of the results and athletes' bios.
Now, I freely acknowledge it was my ignorance for not going through the proper credentialing procedure ahead of time. But I know two other reporters who made the same assumption I did and also were shut down by officials when they asked to cover it. They chose not to go at all.
[+] Enlarge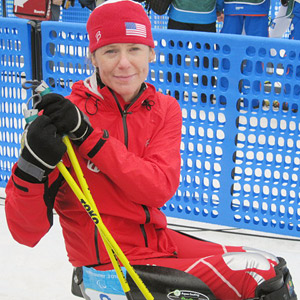 Jim Caple
American Monica Bascio, who was paralyzed in a ski accident 18 years ago, finished eighth in the 1K women's sprint.
Paralympics officials may feel smug --
"We are NOT the Olympics! We are separate! Now go away and get your applications in for Sochi!"
-- but the end result is very few people were made aware of these incredible athletic performances and the inspiring stories behind them. And the people hurt most are the athletes who desperately need the publicity so others can learn about the possibilities and join them. Finding adequate competition is one of their greatest challenges.
"The one excuse I hate the most is 'I wish I knew about that,'" Halsted said. "We're such a small population so we can't afford to have people say, 'I didn't know about it.' If there are 10 of us in an area, we have to know about it so all 10 come out. … [The Paralympics] are a vehicle to send a message out to all those people sitting there saying, 'I didn't know.' Hopefully this opens the door for all the kids, all the people who have injuries, you name it, to come out. Next year, I'll have three people to ski with. And we'll bring them out and they'll say, 'I want to go to the Paralympics.'"
Hopefully more people will learn about the Paralympics and the sporting possibilities, despite a few officials who chased reporters away.
"I'm glad I can compete at this level, but a part of me wishes I didn't
have
to compete at this level because I just want to compete against 30 people," Halsted said. "Don't get me wrong -- I love competing at internationals. But if I could stay in the Northwest and compete against 30 people, I'd be happy."
You can do more than you think. The Paralympics are proof. And the athletes' stories are worth telling and hearing, whatever your physical condition.
Jim Caple is a senior writer for ESPN.com. He can be reached
here
. His Web site is at jimcaple.net.